Red Dune Adventures Series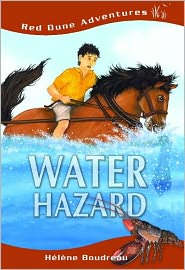 In WATER HAZARD! Lucas and Andre wonder how the best Irish Mossing horse in Prince Edward Island got injured. Was it an accident or sabotage?
And will their classmate, Summer, stop reciting poetry long enough for them to figure it out?
Read the first chapter: coming soon…
Purchase: chapters.indigo.ca │indiebound.com│amazon.ca │amazon.com│barnes&noble.com
Reading level: Ages 6-9
Publisher: Nimbus Publishing (September 1, 2011)
ISBN-10: 1551098288
ISBN-13: 978-1551098289
 In KEEP OUT! Lucas and Andre try to solve the mystery of who, or what, has destroyed the endangered piping plover's nest of Prince Edward Island National Park. And Lucas hatches a plan to get Andre to keep his dirty socks on his side of the room!
Read the first chapter: HERE!
View the book trailer: HERE!
Download the Teacher's Guide: HERE!
Purchase: chapters.indigo.ca │indiebound.com │amazon.ca │amazon.com│barnes&noble.com
Reading level: Ages 6-9
Publisher: Nimbus Publishing (October 1, 2010)
ISBN-10: 1551097532
ISBN-13: 978-1551097534
In the news!:
Review in CM Magazine

"Keep Out! is truly a compelling story, with hints given throughout the book about who or what is causing the piping plovers' eggs to be broken. Readers may be particularly interested in learning that the piping plover attempts to distract predators by pretending to have a broken wing. Keep Out! is especially recommended for emergent or reluctant readers, but it can be enjoyed by just about anyone."
Review in The Chronicle Herald

"An excellent little mystery written in a fun, engaging, straightforward style makes Keep Out! a good choice for newer independent readers."
Review in KNOW Magazine:

9 year-old Isabella says: "What I liked best about the book is that there is science and a mystery mixed together. I learned that when a sign says "Keep Out," it is for a good reason, like to protect endangered species. I also learned a lot about the piping plover, a bird I had never heard of before. The drawings of the piping plovers were amazing. I would tell a friend that if they liked science, nature, animals, and mystery books then they will absolutely love this book."